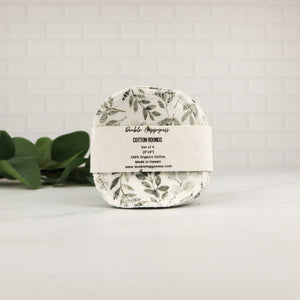 Cotton Rounds - Eucalyptus (Set of 6)
Handmade with aloha in Honolulu, HI. Double Happyness makes daily habits sustainable by providing zero waste products that are easy to use, reusable for years, and are 100% biodegradable.
Their reusable cotton rounds are gentle on your skin, don't contain harsh chemicals and are 100% biodegradable. Make your skincare & makeup removal routine more sustainable by switching to reusable. Don't toss out their business cards or product labels! They are made from recycled cotton paper embedded with daisy and poppy seeds.

Care Instructions:
You can handwash them and lay flat to dry. Another method is to put them in a mesh bag, wash on cool/warm setting, with mild detergent and use a cool/low dryer setting. They can last up to 1,000 washes!

Materials Used:
• Cotton Thread
• Organic Cotton Knit Fabric
• Recycled Cotton Paper w/ Poppy and Daisy Seeds

Included:
• 6 Double-Sided Cotton Rounds
• 3" x 3"
• 12PLY

Disclaimers:
Product color may look different when compared to in person to what is presented on your computer or mobile device. Double stitching on the product is to reinforce stitching and is not a product defect. A liquid sealant is used on the seams to ensure longevity. The product may warp in the washer or dryer. You can iron on a low setting to make them flat again. Heavy usage will stain the product.
---
We Also Recommend
---