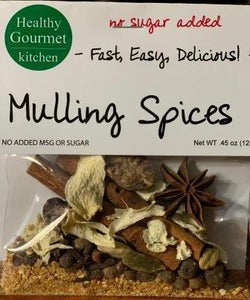 Mulling Spices
Make your home smell like the holidays with our hand mixed and packaged mulling spices.
With whole cinnamon sticks, nutmeg, orange peel, hand peeled organic ginger, organic star anise, allspice, cardamom and cloves it's a great gift for someone special or to enjoy yourself.
To make mulled red wine, combine 1 bottle wine, 1/3 cup honey or sugar, and the spices in a pot. Warm over low heat for about 20 minutes, stirring once in a while to make sure the sweetener is dissolved. Ladle the liquid into mugs, discarding the spices.

To make mulled apple cider, all you need are the spices and cider. Place 1/2 - 1 gallon apple cider in slow cooker on low for 4 hours. Stovetop: Add cider and spices to pot, bring the mix to a boil, cover, and simmer for about a half an hour. Discard spices and serve hot cider in mugs. Optionally add a slice of lemon or orange or a bit of brandy if desired.
---
We Also Recommend
---